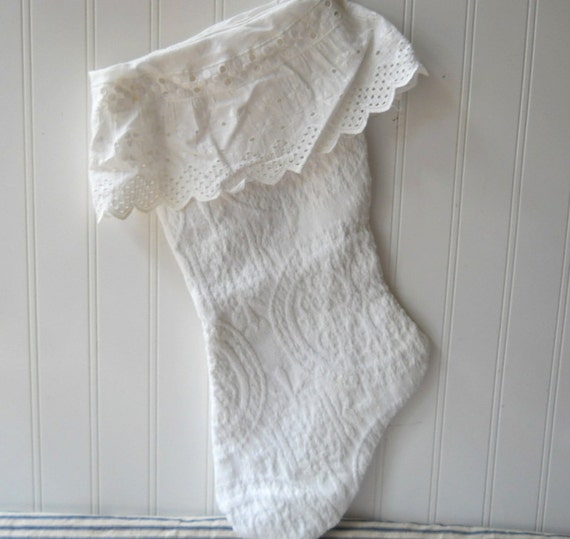 Hi guys! I have been busy busy lately. I finished up my order of 10 vintage matelasse and lace Christmas stockings and boxed them all up and shipped them...and THEN remembered I hadn't taken any pix to share! Typical! They basically looked like the one of mine above, but with varied laces on the top edges. They are all vintage materials. The stocking is cut from a vintage matelasse bedspread. The laces come from my totes of vintage and antique laces.I used vintage petticoat hems and even some heavy crocheted laces. The insides are vintage white damask tablecloth fabric. I love upcycling old textiles into new items! I need to make a few more for my shop!
Today I finished up some chalkware Santa Clauses that I have been working on. I mold these from plaster in a vintage tin chocolate mold that I have. They are pretty big..9" tall.
My mom and dad always say no education is wasted. When I was fairly newly married (as opposed to 31 years under our belts!) my husband and I sold our farm and we and our baby son moved and I went back to school. A totally terrifying series of events at the time..I had planned on being a farmer's wife all my life, but my life had other plans! I went to vo-tech in a dental lab tech program. I worked with plaster, bending wire and casting metal.I did work "in the field" for a few years, but when we moved to TN and I had TWO little kids, daycare took a major chunk of my pay. After I paid daycare and gas, I was making $20 a day so I decided to stay home with my babies. I never got back into dental work, but I have used a LOT of what I learned! With these I found myself using my plaster mixing and mold pouring techniques once again!
My favorite part of these is the painting. I have painted hundreds of Santas in my former crafty life..and getting back into it is just like riding a bike..with no painful crashes! The term Belsnickle is of German origin. Belnickles are thinner (usually switch carrying) fur clad Nicholas's who show up a week or 2 before Christmas to scare the goodness into small children with their switch and knowledge of who had been naughty!
I can never make "just" red! In the background you see some of my hoarded *ahem* collected vintage mercury glass bead garland and a couple of my bristle brush trees..one tinted and glittered and one waiting for "the treatment".
The faces always turn out uniquely...each a bit different. I added vintage mica flakes and glitter to the fur.
I want to make more of these if I have time. This Saturday Ed, (our 5 yr old grandson)Hunter and I got up at 4am and drove (ok..Ed drove..I rode) to South Carolina to an antique auction he had scoped out online. We got some marrrrvelous vintage and antique hardware and lighting bits and more. We packed the van. Poor Hunter had a piece of cardboard surrounding his side to keep things from tumbling on his head! He was so tuckered from being outside at the sale all day running about and playing "acorn basketball" (acorns and a foam cup..low tech!) that he fell asleep instantly in the van. We didn't even get out of town before he was snoring (and it was a small town!)We followed the alternate route home that the GPS suggested and ended up driving through SC, NC,and GA on our way home to TN on wiiiiiindy switchback roads in the dark..I was squeaking and squealing involuntarily at the sharp curves..much to my husband's amusement/annoyance! I dozed off once and he hit the rumble strips on a curve (I think on purpose) and I was shrieking awake once again! Truly there was no "good" way to get there or home..winding roads all the way. I am sure if it was daylight it would have been a much better drive! We made it home safely and I have been unpacking the van for the last couple days. New items for Ebay, Etsy and out booth uptown! Check back and see what goodies I have to share! Hope you have a great week! Til next time! Julia